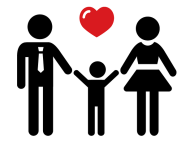 It's possible that if you're going through a divorce that you're still living with your soon-to-be-ex spouse as the detailsget worked out. While thisisn't ideal, it's possible to make it work, even if you have kids in the house that can pick up on your behavioral changes. As soon as mom or dad stops sleeping in the bedroom, the kids know something's up so talk to them as soon as possible. You need to make sure that they understand the situation so they don't feel cheated or lied to.
In situations like this, successfully co-parenting might seem impossible to do, but that's not the case. In order to be able to work as parents together, even if not a couple, you need to sit down with each other and work out a schedule and lists of responsibilities for each party – similar to how you would if you were still involved romantically. This might seem a bit ridiculous since you probably don't want to be near each other, but we promise in the long run you'll thank us because it will make things go over much smoother and the kids will be happy with a seemingly normal routine.
Another thing that can seem tricky is family mealtimes. In most households, kids are used to sitting down to at least one meal a day as a whole family so if this is the case in your home then try and keep that routine. You don't have to force conversation with each other, take the time to talk to your children and focus on what's going on in their life. However, if mealtime becomes a battle scene then don't force it and add meals to your individual schedules that you worked out.
When it comes to your scheduling, take into account that when it's the other parent's turn that you should make yourself scarce. Try to be out of the house when your ex has the kids and is spending time with them inside the house, whether it's a mealtime, homework time, or bedtime. Give your ex the respect to allow the child to fully focus on them and in turn you should expect that same respect back.
The trickiest part of divorce for kids is the questions they don't know the answer to; such as where they will live, if they have to change schools, and when they will see the other parent. Make sure that you work these situations out before the kids come to you asking so that when they do you have the answers. When children don't get a straight answer, they begin to imagine what the answer will be and often their imagination is worse than reality.
Keep your children in the know. Let them know they are loved and that you will never make a decision without their best interest at heart. Co-parenting is hard enough when you're in a relationship, but is still definitely possible when you are not.
Contact us at The Mediation and Family Counseling Group www.mediationandcounseling.com if you are struggling to co-parent under the same roof.